Depending on your location, you can share maps in a few of different ways. If you'd like to share a map or a set of search results, search for the location you'd like to share, then click
at the top of the left panel. You can copy the URL or click Send for more options. To share a particular business listing, click Send in the info bubble for that listing.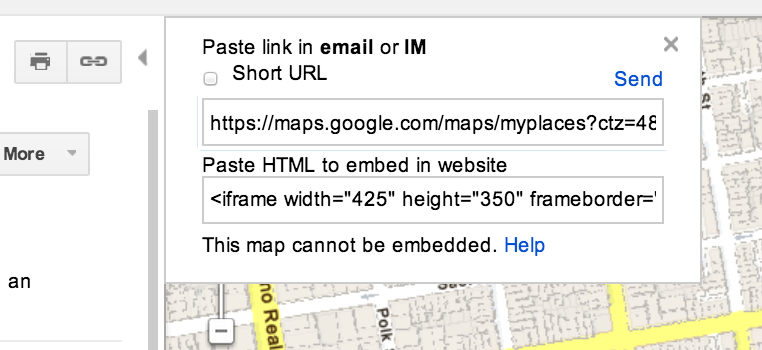 When you click the share button, you'll see the following fields:
Paste link in email or IM: In this field, you'll see a URL that you can copy and paste. Click Short URL to shorten the link.
Paste HTML to embed in website: You can copy and paste this HTML to embed the map in your website. Click Customize and preview embedded map to adjust map size and preview what the embedded map will look like. Learn how to embed a map.
If you click Send, you'll be presented with one or more options for where to send your map, directions, or business listing:
Email: This allows you to send an email to the addresses you specify in the 'To' field. The contents of the email appear in the 'Message' box. You should see the name of the location your map shows, and a link to your current map view. If you wish to send a copy of the email to your own email address, make sure to specify it in the 'From' field and keep the 'Send a copy to my email' box selected. Add any extra information to your message as necessary, then click Send.
Phone: This sends a text message with the place or address information to the phone number you provide.
Car: This allows you to send information like an address or business listing to certain makes of car.
GPS: You can send business listings and location information to your navigation device.