This article describes the latest version of the Drive app for Android. To get the latest version, download an update from the Play Store.
Viewing and real-time collaboration
With the Drive app on your Android device, you can view Google documents that you've created and that have been shared with you. Every time you open a document, it'll update to the latest version.
A gray indicator at the top-right corner of your screen will show other users who are looking at or editing the document. You will also see changes being made in real time.
A few things to remember when viewing Google documents in the Drive app:
Tables, images, and drawings in your document can all be viewed through the app.
To follow links, tap on hyperlinked text and choose Follow link.
You can pinch-to-zoom into your document.
The Drive app also allows you to create, reply to, and resolve comments in Google documents.
To view and reply to comments, tap the Comment button in the top right corner of your screen.

Loop people into the conversation the way you would on the web, by typing "+" and choosing a saved contact from the pop-up menu (or typing in a new email address).
Tap each comment individually to see the text it is attached to.
Tap the Edit icon to make changes or delete a comment.
Use the Menu button in the top right corner of your screen to resolve a comment.
Swipe right and left to move between comments.
Tap the X in the top right of the comments list to close this view and return to the rest of your document.

To add a new comment for specific text, highlight the text and tap the Comment button in the gray hover menu.
To add a new comment pertaining to the entire document, tap the Comment button in the top right corner of your screen.
Editing with the Drive app
You can edit your Google documents within the Android app whenever your mobile device has an Internet connection. Editing is available in all supported languages for the Google Drive Android app, including those with right-to-left text.
To begin editing a Google document, touch its name in your Drive and touch the place in your document where you'd like to edit text.
As you type, your mobile device may suggest words and make corrections to help you avoid typos on your mobile keyboard.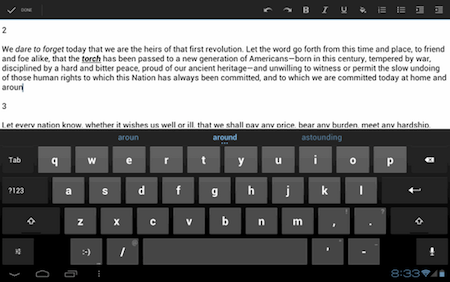 Formatting
When you're in edit mode, the toolbar at the top of your document lets you make formatting changes like bolding and underlining text, changing your font style and color, and creating bulleted lists.
On phones and tablets with a small screens, scroll the formatting toolbar to show more formatting options.
Undo and Redo reverse and reapply the latest changes you made to your text.
Fonts selects font style and size.
Bold , Italicize , Underline , and Strikethrough change the text formatting.
Color changes the font color or the background color of your text. Move between Font and Background to select different colors for each.
Bullets and Numbering add lists to your document.
Indent or Unindent your paragraphs.
Text selection and copy/paste
To select a word, double tap or touch and hold it for 2-3 seconds. Use the blue markers to expand your text selection.
Options to Cut, Copy, or Select all text within your document will show in a gray menu.
Touch the Done or Checkmark buttons in the top left of your screen. You'll return to view mode.
You can cut and paste or copy and paste text within or across documents in the Android app. Selections copied from one document and pasted into another, though, will be pasted without formatting.
Images and tables
The Drive app lets you view and edit tables in your Google documents. To do this, simply click into the cell you want to modify and make your text edits. At the moment, it isn't possible to create new tables from within the app.
The app doesn't currently support changes to images.