If you've ever wanted more room to work in one of your documents, you can now free up some space by viewing them in full screen or compact controls mode. Here's how:
For compact controls, click the Hide the menus button on the right side of the toolbar. You can also go to the View menu and select Compact controls or use the keyboard shortcut Ctrl+Shift+F.
For full screen mode, go to the View menu and select Full screen.
If you're in full screen mode, you can return to regular viewing mode by hitting the Esc or Escape key.
Google Docs will remember the view settings you've selected for your documents, spreadsheets, presentations, and drawings. For example, if you change your view setting to "Full screen" while working on a document and to "Compact controls" while working on a presentation, the next time you open or create a document or presentation, it will open in that app's most recent view mode ("Full screen" and "Compact controls," respectively).
Spreadsheets will remain in compact controls mode between sessions, but not in full screen mode.
The search box
When you're working on a document in compact mode, you can use the search box to apply formatting options and take document actions with just a few keystrokes — and no mouse! With the search box, you can:
Format text, such as bold, italics, or strikethrough
Change the font or font size
Insert images, links, or comments
Make a bulleted or numbered list
Open the sharing settings
Look up the word count
And anything else in the document menus
The search box is on the left side of the toolbar in Google documents.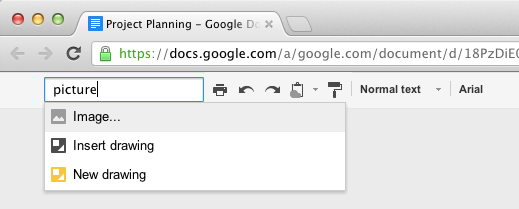 Here's how to use it:
Highlight text or place your cursor where you'd like to complete an action (for instance, inserting an image).
Click into the search box on the left side of the toolbar, or use the Alt + / keyboard shortcut. If you're using Firefox on a Mac, the shortcut, for technical reasons, is Ctrl + `.
Type any formatting option, action, or document setting you'd like to apply.

For example, type "Italic" into the search box to italicize highlighted text or to begin typing in italics.
Or, if you'd like to insert page numbers into your document, type "Page number."

Select a result to complete the action.
Press the Esc key to exit the search box.
The search box currently supports all features found in menus, except for the following settings and actions:
Language settings
Inserting tables
Changing text and background color
Paint format tool
Copy and paste using the web clipboard