You may be able to connect your Chrome device to monitors using connections such as DisplayPort, DVI, HDMI or VGA. Consult the help information provided by your device manufacturer to determine what type of connector you should use.
Projecting on Chromebooks
To project your Chromebook's screen on an external monitor, connect the monitor to your Chromebook. Once connected, your device should automatically detect the monitor and extend your display using the best possible resolution.
Projecting on Chromeboxes
Use the Single Link DVI port or DisplayPort at the back of your Chromebox to connect a monitor. Refer to your Chromebox manual to find out where these ports are located.
The maximum resolution is 1920x1200 for DVI and 2560x1600 for DisplayPort.
Extended multi-monitor support
After you connect your Chrome device to an external monitor, you'll be able to extend or mirror your desktop and arrange the displays. Click on the external display section of the status area to open the Manage displays dialog box, where you can identify displays or adjust their orientation.
Adjust your screen area
After selecting your extended monitor from the status area and clicking the TV adjustment link in the Manage Displays window that opens, adjust the viewing area by using the arrow and shift keys until your screen is aligned properly.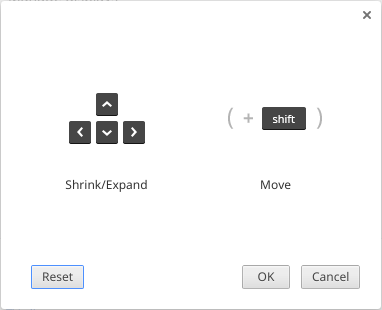 If you'd like to mirror your display, press Ctrl and
on your keyboard. If there is no common resolution, your Chrome device won't mirror the external and internal monitors.