Overview
You can incorporate product ads within your blog post by using Google Affiliate Ads for Blogger. When readers click on an ad (whether it's via a text or image link), they're led to a site to purchase that product. If your ads generate sales or conversions for participating advertisers, you may earn commissions and receive payment through your AdSense account.
How it works
Once you've accepted the Google Affiliate Ads for Blogger Terms and Conditions, you'll see the Advertise Products gadget on the right-hand side underneath Gadgets in the Post Editor.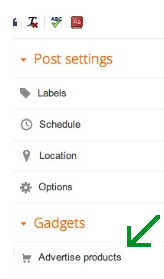 Let's say you're writing about your weekend discovering trails around your neighborhood, and you want to recommend the running shoes you wore. Simply type in the product, retailer, or brand name into the widget, and scroll down the list of products to find the one you like.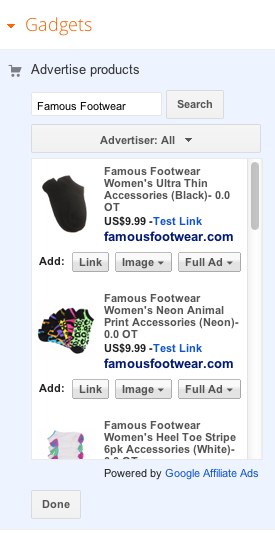 Underneath each product, you'll have the option to insert the ad as a link, image, or full ad.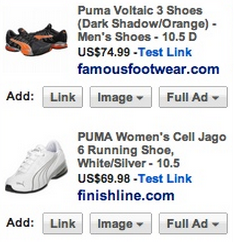 A link will simply hyperlink selected text in your blog post, while an image will look like this:

and a full ad will look like this, including more information about the product:

You can adjust the size and position the images or ads just like you would a photo within your blog post.
A few tips for promoting products in your blog:
Choose products or brands that are appropriate to the content of your blog and to your audience.
Be honest with your readers.
Be as passionate about the product you're recommending as you are about your blog.
Embed the Google Affiliate Ad right in your post to make it easy for users to check out your recommendation.
Get started
To start using Google Affiliate Ads for Blogger, you need an AdSense account. However, this doesn't mean that you have to display AdSense ads on your blog. With AdSense and Google Affiliate Ads for Blogger enabled on your blog, you can choose whether you want to display one, the other, or both.
Blogs using Google Affiliate Ads for Blogger are matched with advertisers based on the content that appears on their blogs, so individual advertisers may not be available to all blogger users. If you would like to work with Google Affiliate Network advertisers that aren't available through Google Affiliate Ads for Blogger, you can sign up as a direct Google Affiliate Network publisher and apply to specific advertiser programs.
I already have an AdSense account
Just go to your Post Editor to write a new post. If your blog has been matched with an advertiser, you should see the Advertise products under the Post Settings section on the right-hand side of the Post Editor.
I don't have an AdSense account
All transactions with Google Affiliate Ads for Blogger are handled through AdSense -- even if you choose not to display any AdSense ads on your blog. To sign up for AdSense, just click on the
Earnings
tab on your blog and then
Get started
. We'll ask to you fill out a form to provide some information about yourself, and then send you an email once your account has been approved.

Once you're approved for AdSense, you should see the settings for Google Affiliate Ads in the
Post Settings
section on the right-hand side when you're in the Post Editor writing a new post.
I followed the directions, but I don't see the Google Affiliate Ads option
This feature is currently limited to U.S. users whose Blogger language is set to English.
If you're a U.S. user and don't see this option, it just means that you haven't yet been approved to use Google Affiliate Ads (even if you're an approved AdSense user). As we're still slowly adding more and more advertisers to our program, not all blogs will immediately be approved to display Google Affiliate Ads.

There's no need to take any action if you're not immediately approved for Google Affiliate Ads with Blogger, as the option under Post Settings will automatically appear once we've partnered with advertisers appropriate for your blog.
Viewing your earnings
To view the income you've earned from AdSense or from Google Affiliate Ads for Blogger, just click on the Earnings tab on your blog.

To view details about your earnings, click View dashboard under Google Affiliate Ads. You'll be led to a Google Affiliate Network page with information about the income you've generated.
Other information
Google Affiliate Network reminds you to please comply with laws that may require your disclosure of any financial benefits you receive for endorsing specific products or services. To learn more about Google Affiliate Ads for Blogger, read our Frequently Asked Questions.